A Brave Step during Covid-19

Today's world is not a usual world which people have seen for years. COVID-19 pandemic has done what no one had ever expected in their lifetime. The lock down of the world seems like a game or a movie and everyone is a part of this game and wants to exit the game as a winner. But everyone is not a winner in a game. In fact this game has brought down almost everything to a standstill. Looks like the end of the game is only losers and less losers. The less looser is probably the winner in this game. There is an impact on every industry. Hotel and restaurant industry is probably one of most affected industries during these times. Millennials across the world would never have imagined that they can't travel, can't go to restaurants, can't stay at hotels, can't live the life their way.
During these difficult times, Organisations have been very creative to keep their brand still in the mind of people. One such Hotel chain is 'DoubleTree by Hilton'. Everyone who has visited or stayed at DoubleTree would probably never forget the Chocolate Chip Cookie. The Cookie which would just melt in the mouth used to be a big puller for DoubleTree which is a moderate cost Hotel chain and which attracts lot of Millennials. During these difficult times, the hotel took a very bold step to give away the recipe of the delightful cookie to continue engaging with its patrons. The message from their campaign reads "For the First Time, DoubleTree by Hilton Reveals Official Chocolate Chip Cookie Recipe so Bakers Can Create the Warm, Welcoming Treat at Home" (ref: https://newsroom.hilton.com/static-doubletree-reveals-cookie-recipe.htm)

As per the hotel chain, more than 30 million Chocolate Chip Cookies are consumed every year. The step to give away the recipe means that the hotel chain is risking one of their main attractions. The campaign was launched on 9th April 2020 and has been one of the most successful campaigns. Google search for the text "hilton doubletree cookie recipe" results in 17,800 results. There are 1000's of Chefs around the world who have created videos on the recipe and every video has 1000's of views already.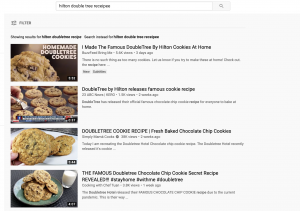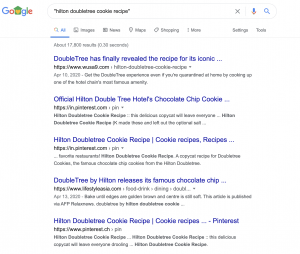 Isn't the move from DoubleTree a great move during these times. The chain has shown a path to people across the world on how to spend their time during the lock down. Many people who have not baked ever in their life would probably be learning how to bake to kill the time. The campaign not only helped the people think positive about the whole situation but also brought so many of them together to fight the pandemic.
(Visited 246 times, 1 visits today)