Halloween and A Cake for the Night!!
Halloween and A Cake for the Night!!
It is that time of the year where you get loads of children ringing your doorbell for "Treats" dressed in weird costumes and of course some of the best Horror movies on television which is watched with loads of comfort food – a cake , popcorn , candies etc. Yes , you guessed it – Halloween is almost upon us.
Some of the suggestions for Halloween from our end for :
Trick or Treating  – Nothing beats the thrill of getting free candy. This year instead of passing around the same cheap store bought candy try our premium chocolates .
Halloween Parties  – Try our death by chocolate cake for that extra added zing to your party or add that extra oomph to the party you can also order our red velvet cake shots or a cake in jar.

With icing sugar dust on top layer

Halloween's Death By Chocolate Cake

Horror Movies  – While watching some of the scariest movies being played on television try our brownies wither with warm chocolate sauce or with ice cream as brownie sundae ordered from Swiggy.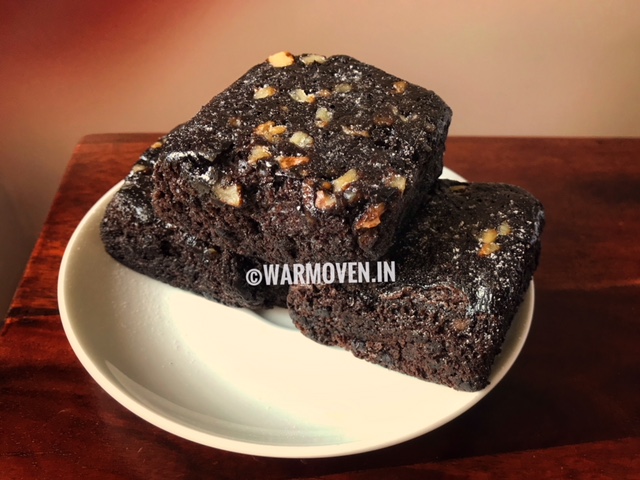 Halloween Playlist  – Not to forget some of the loud Halloween playlist ; the creepier , chilling and loud the better.Before we part ways our favorite (all time) song for Halloween has to be "Thriller" from late MJ and our favorite part  goes something like this :'Cause this is thriller
Thriller night
And no one's gonna save you
From the beast about to strike
You know it's thriller
Thriller night
Let us know what is your favorite way to celebrate Halloween and would love to hear which your all time favorite Halloween song in the comments section below . Whichever way you decide to spend the evening you can order from us as below:
To order-
Premium chocolates click here – https://www.warmoven.in/chocolates-12
Call on 888-0-233-233/ 89718-38735
Email us at sales@warmoven.in
Leave us a message on our FB page –https://www.facebook.com/WarmOven
Website – https://www.warmoven.in
Other Ways (Swiggy/UnderEats/Zomato or FoodPanda) – https://www.warmoven.in/blog/order-warm-oven.html