Old Monk Cake – The rum forever cake
The Rum of youngsters is dying away in India. The market share keeps going down and down but the 'Old Monk Cake' lives forever.
From officers of the Indian armed forces to the common man on the street, the dark rum – packaged in its iconic short, stout bottle – built up a massive fan base. In fact, Old Monk even has a community page for its ardent lovers on Facebook by the name COMRADE: Council of Old Monk Rum Addicted Drinkers and Eccentrics.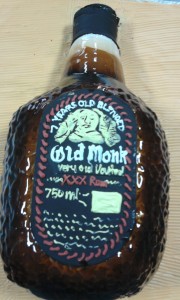 "Old Monk is still India's favourite rum and it's not going anywhere," SN Maingi, deputy general manager at Mohan Meakin, told the Times of India. "It is our flagship product. Old Monk is the pride of Mohan Meakin. Even if things were to go bad, Old Monk wouldn't be the product to suffer since it is a priority for our organisation."

Meanwhile, McDowell's rum – a 24-year-old brand owned by United Spirits that costs 20% more than Old Monk – has been growing at more than 5% annually. In 2014, McDowell's controlled close to 40% of the market.
And it's possible for Old Monk to reclaim lost ground.
Content was originally published on Qz.com.
(Visited 1,705 times, 1 visits today)