Mangalyaan – Off to Mars
The Mars Orbiter Mission, informally called Mangalyaan, is a Mars orbiter launched into Earth orbit on 5 November 2013 by the Indian Space Research Organisation. It is expected to enter orbit around Mars on 24 September 2014.
And fired up by this mission, we have our own Space themed cake in much demand. This fondant cake is ready to take your kid and his friends on an trip around the solar system. With all 8 planets and the sun and a fiery rocket, have a blast at the party, exploring the solar system!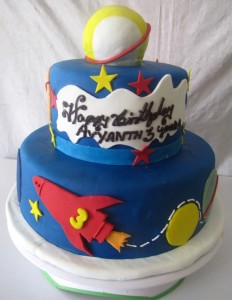 Delivery available anywhere in Bangalore. Minimum 3 kgs, flavor of your choice
(Visited 43 times, 1 visits today)