Painting the Town Red Velvet!
No happy occasion is complete without a cake as the highlight. Many types of cakes have become popular with the increasing interest & knowledge of people about baking.
One of the popular types of cakes trending in the markets today is the Red Velvet Cake.
The lovely red colored cake and its perfectly smooth velvet like texture has a huge fan following; but not many know the ingredients that are put into the cake.
The Red Velvet Cake has the characteristic red, bright red or red-brown color. The cake has its origin in the Southern region of the United States. It is a decadent chocolate cake with a red tinge and is traditionally prepared in layers topped with cream cheese or traditionally the Butter Roux icing (also knonw as the Ermine Frosting). The chocolate lovers are sure to love this cake as much as the other chocolate flavored cakes.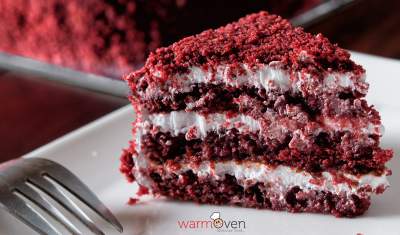 Red velvet cake ingredients
The red color of the cake is brought in either by using high quality red food color or beetroot extract. Common ingredients that are used in the cake are buttermilk, butter, cocoa and flour. The action of acidic vinegar and buttermilk activates the red pigment Anthocyanin present in cocoa and also helps in keeping the cake moist and fluffy. During the World War II, bakers used boiled beet juices to bring in the coloring in their cakes due to the shortage of food colors. Later, Adams Extract came to be used as food color in the red velvet cake. Traditionally, the cake is iced with French-style butter roux icing which is very light and fluffy but time consuming to prepare. Newer and quicker varieties in icing the cakes have either Cream Cheese frosting or buttercream frosting.
Red Velvet cake has been around since the 1940's as a special dessert. In Canada, the dessert had been in huge demand in restaurants and bakeries in the 1940's and 1950's. Now the cake is loved by people all around the world and is present on the menu of every bakery, cake shop and restaurant.
At WarmOven, we have a number of variants of the lovely looking dessert in the form of a Naked Red Velvet Cake with minimum frosting, Red Velvet Cupcakes, Regal Red Velvet Cake with a light whipped cream frosting & a Red Velvet cake with Cream Cheese frosting.
Our chefs follow the traditional red velvet recipe to give you a soft, moist and flavorful cake you have ever tasted. You can even choose to customize these cakes or make them as your base cake for a themed fondant cake.
Go ahead & order our star product and have the pleasure to cut the velvety Red Velvet Cake at your next celebration!