Eid Cakes
Bakrid or Eid al-Adha meaning "Festival of the sacrifice" also called the Feast of the Sacrifice  is the second of two religious holidays celebrated by Muslims worldwide each year. It honors the willingness of Abraham (Ibrahim) to sacrifice his promised son. Ishmael (Ismail) as an act of submission to God's command, before God then intervened to provide Abraham with a lamb to sacrifice instead. In the lunar-based Islamic calendar, Eid al-Adha falls on the 10th day of Dhu al-Hijjah and lasts for four days.  In the international Gregorian calendar, the dates vary from year to year, drifting approximately 11 days earlier each year.
Eid al-Adha is the latter of the two Eid holidays, the former being Eid al-Fitr. The basis for the observance comes from the 196th ayah (verse) of Al-Baqara, the secondsura of the Quran. The word "Eid" appears once in Al-Ma'ida, the fifth sura of the Quran, with the meaning "solemn festival".
Like Eid al-Fitr, Eid al-Adha begins with a Sunnah prayer of two rakats followed by a sermon . The days of Eid have been singled out in the Hadith as "days of remembrance".
And the food is shared with friends and family. Celebrate this festival with a beautiful and delicious chocolate cake. And make it special by sharing it with your loved ones.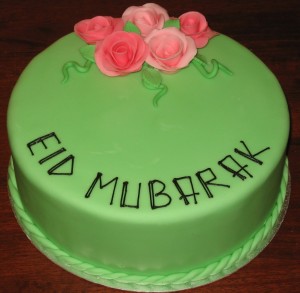 And in case you are not in town, this is an ideal gift for you to send to your family. Easy to order and at very reasonable prices! Try http://www.warmoven.in/eid-mubarak.html
(Visited 131 times, 1 visits today)